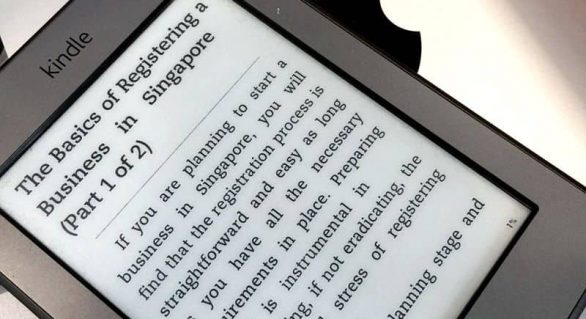 Singapore is known for its enterprise-friendly environment and the efficiency of its business registration process. There is an abundance of helpful online resources for anyone who is keen on starting a business in Singapore particularly, its Accounting and Corporate Regulatory Authority (ACRA) website. In a series of videos, ACRA's Business Registry and Facilitation Department Head provided key information about registering a business in the city=state. We featured these videos in a two-part blog post and presented highlights and additional pointers for your easy reference.
To get a full context of this post, kindly read through The Basics of Registering a Business in Singapore (Part 1 of 2). The first part includes advantages of starting a business in Singapore, ACRA's role and responsibilities, and the types of business entities you can choose from.
Part III: Types of Companies
If you are interested in setting up a company instead of a sole proprietorship or partnership, the third part of the presentation discusses the type of companies you can register, its features, and the methods of closing down each type. Any company registered in Singapore is mandated to comply with the provisions under the Companies Act.
Highlights:
COMPANY
• Private Company Limited by Shares can have not more than 50 shareholders.
• Exempt Private Company can have not more than 20 shareholders. None of these shareholders can be a company.
• Public Company Limited by Shares can have more than 50 shareholders.
• Public Company Limited by Guarantee is for non-profit making activities such as religious and charitable organisations.
• Features of a Company:
– It is a legal entity. It has the right to buy and own property and can sue and be sued.
– Shareholders own the company. They appoint Directors to manage the company.
– A company has perpetual succession.
– Singapore allows companies with only one Director.
• Closing a Company can be done either by winding up or striking off by the Registrar. It usually takes 5 months before a Company can be struck off to give creditors an opportunity to object to the striking off.
Additional Notes:
A Company is the most preferred business vehicle in Singapore due to the benefits it offers entrepreneurs and entities—from limited liability to minimal requirement, and more opportunities for funding as the maximum number of shareholders is 50. Here's a list of the minimum requirements in registering a Private Limited Company:
LIMITED LIABILITY PARTNERSHIP
• LLP is a combination of a general partnership and a company. It is similar to a Partnership but with limited liability. It is a separate legal entity and has perpetual succession. Closing down an LLP is similar to closing a Company and can be done by either winding up or striking off.
LIMITED PARTNERSHIP
• LP was launched in Singapore in 2009. In this business vehicle, there is a minimum of two partners: Limited Partner who cannot take part in management and has limited liability and a General Partner who is responsible for filing transactions and has unlimited liability. There are three ways an LP can be closed: through cessation, dissolution or cancellation.
Part IV: Other Important Information
Highlights:
• Transactions can be done online via ACRA's e-filing and information retrieval system called BizFile with more than 350 e-services available to the public.
• Note that there are no manual forms, manual procedures ore manual modes of payment.
• Residential address can be used as the Registered Business Address under the Home Office Scheme.
• Registration is only the first step in starting a business in Singapore. Business activity may require licenses, approvals or permits from other agencies. You may check if your business is regulated by other agencies through business.gov.sg.
Part V: Online Services and Commonly Asked Questions
Singapore promotes electronic transactions for services provided by its government agencies. The last part of Ms. K Latha's presentation outlines the online services offered by ACRA along with frequently asked questions.
Highlights:
• ACRA has a whole suite of information products that you can acquire for a fee at iShop@ACRA including: Business Profile, Business Profile with Certificate of Production, Certificate of Good Standing, Register of Business/ Company Documents, Extracts or Microfilm of Forms/ Documents Lodged, Package Information Services, Statistical Information Services, Letter of Confirmation and People Profile Information.
• Foreigners residing overseas need to partner with a locally resident person to be able to register a business in Singapore. If the foreigner wants to reside in Singapore and run the business, he must obtain an EntrePass from the Ministry of Manpower (MOM).
• Employed individuals must check the terms and conditions of employment contract or check with HR department before registering a business.
• If a business no longer operates for two years, ACRA will allow another business to use the name. If it is a company, you have to wait for 15 years before you can use the company name.
• Illegal, unlawful activities are prohibited by law.
• Minimum capital is S$1.
Additional notes:
Foreign entrepreneurs looking to establish a business in Singapore have three options. They can set up a Subsidiary Company, Representative Office or a Branch Office.
A Subsidiary Company is a Private Limited Company with either a local or foreign firm as its major shareholder. This is ideal for small and medium-sized foreign enterprises due to its tax efficiency. Like any other local company, it can benefit from tax incentives and exemptions. It is also considered a separate entity from its parent company.
Setting up a Representative Office (RO) is suitable for those who want to test the viability of doing business in Singapore. The parent company will be held liable for any liability incurred by its RO. Since the main focus of an RO is conducting feasibility research, it is prohibited from participating in trade or undertaking any profit generating activities.
A Branch Office is a registered legal entity. It acts as an extension of its parent company and is required to operate under the same name. Below is the summary of requirements to set up a Branch Office in Singapore: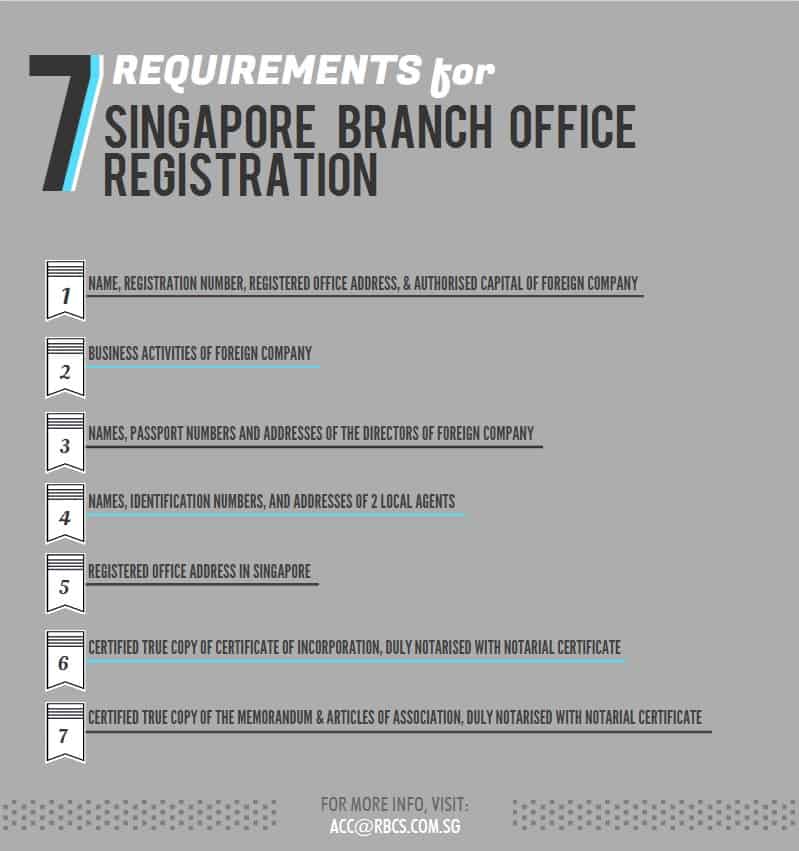 For more Company Formation Frequently Asked Questions, you may visit our Singapore Company Incorporation FAQs.
Engaging a Professional Service Provider
While it is relatively easy to register a business in Singapore, it is important to note that the Government stringently enforces laws and policies relating to conducting business. Hiring a trusted professional service provider will prove to be advantageous not only in making your registration process worry and hassle-free but also in ensuring statutory compliance.
If you are looking for an affordable but quality incorporation service in Singapore, simply get in touch with us. We specialize in providing SMEs with exceptional company formation and post-incorporation services including the handling your secretarial, accounting and tax requirements. Acting as your one-stop solutions provider, you can focus more on your passion—operating and managing your business.