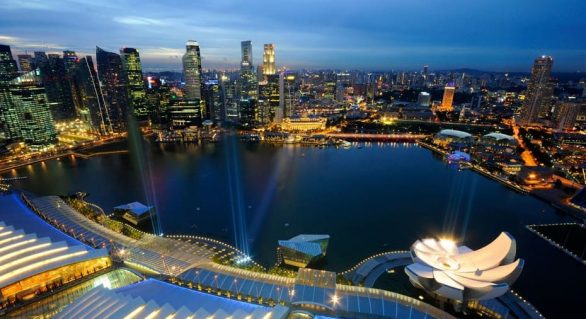 Small and Medium Enterprises (SMEs) are vital building blocks in economic development because of their significant contributions to the economic output. SMEs play an important role in sustaining Singapore's economic growth. The statistics are an easy indicator. SMEs comprised 99 percent of the 189,000 enterprises in the island in 2014 with an overall income amounting to more than half of Singapore's annual gross domestic product. Additionally, they create job opportunities and employ 7 out of 10 workers in the city-state.
Staying competitive and increasingly productive is a challenge. Some of the common roadblocks SMEs encounter are tight labour supply, limited access to financing, increasing competition, rising costs and manpower issues. Aware of these plights, the government of Singapore continues to make it a priority to help SMEs start up, stay competitive, productive and poised for growth amidst constraints. To begin with, the government made necessary measures that make registering a business in Singapore relatively easier compared to other countries. The process is straightforward and streamlined in a way that allows an entrepreneur to commence business operations immediately. If one has all the complete requirements prior to the registration, the process can take less than a day.
For information on starting, operating and growing a business, the Accounting and Corporate Regulatory Authority (ACRA) website features useful FAQs and guides. SMEs that are already operating may not have ample time to go through the trouble of reading up, taking notes and self-learning may be a setback. As an alternative, SMEs can seek advice from experienced advisors through SME Centers. SME Centers are manned by experts in different areas of business ranging from technology, branding, entrepreneurship development, financing and expansion to overseas operation.
Meanwhile, government agencies such as Action Community for Entrepreneurship (ACE), Infocomm Development Authority of Singapore (IDA) and Startup Enterprise Development Scheme (SPRING SEEDS) offer different programmes and schemes to benefit SMEs from providing training to develop key skills to promoting innovation and use of technology, provision of funding, tax deduction and more.
For example, in 2013, SPRING launched a programme that promotes a mutually beneficial cooperation and collaboration between large organisations and local SMEs. The Partnerships for Capability Transformation (PACT) Programme seeks to encourage and forge partnerships between LOs and SMEs. Through this initiative, selected qualified SMEs will have access to projects aimed at upgrading areas of capability development, overall productivity, and opportunities in forming innovative solutions or products. SMEs can also enjoy cash payouts or tax deductions through Productivity and Innovation Credit (PIC) Scheme.
While such programmes have been successful in alleviating the challenges faced by SMEs, there are still gaps that need to be filled. It is a herculean task to make all government initiatives accessible to SMEs at micro and macro levels. In order to complement the government's continued focus and support on SME assistance, SMEs must acknowledge the problems within their organization, identify gaps in capabilities, seek for solutions and seize the opportunities for innovation and growth.